Yesterday, my family visited my great-grandfather's home comune – and now our home comune – of Serradifalco, Sicily.
I had sent a letter to the municipal office – the same office I wrote to ask for birth certificates – telling them that we would be visiting and included a copy of our recognition letter from the Detroit consulate.
We walked into the "municipio" and I asked "parla Inglese" to which, not surprisingly, the answer was "no". So I said "mi chiamo" and told them my name. Well, the person obviously recognized it immediately – "oh, oh, oh" – and then there was a whole team of people happily greeting us. My Italian is very limited but I could catch a bit here and there. They had received my letter. And apparently, the fairly extensive paperwork from the Detroit consulate had only just arrived so the chief clerk had not yet reviewed it. As she was looking it over (and it was quite a lot), she was asking me if my father or grandfather was registered in the A.I.R.E. and I told them no and tried to say that my father and grandfather did not ever know that they were Italian citizens. The office was aware "conoscere" of the concept of "jure sanguinis" but it seemed like they had not had anyone get recognized that way in Serradifalco. They said it would probably be about a month before they would mail me a copy of our birth certificates and marriage certificate.
While we were there they gave me copies of my great-grandfather and great-grandmother's birth certificate – I had them already of course and did not ask for them but they kindly gave them to me anyway. I did ask if they had my great-grandfather's home address. They pulled the old book out and I got to see his actual birth record from 1886 – I had seem it on microfilm but it was cool seeing it in person.
I had told them that I had no cousins in Serradifalco. My great-grandfather and all of his brother's had emigrated to America (well, one stayed back, but he apparently had no children). Well, when they deciphered the address they told me that there was another "Palmeri" living in that same home now. Perhaps my great-grandfather and his brothers – or their parents – had given the house to a cousin since no one was living in Serradifalco anymore to take it?
While they could not get in touch with the people who were living there, they did find their son (?) who happened to live right next to the municipal building. Not only did these distant cousins (?) give us an amazing lunch of antipasto, pasta, and rabbit, but we met other cousins (?), saw the home my great-grandfather was born in, and we got to see the main church and some of the town.
It seemed like my cousins (?) were intrigued to find out if we really were cousins. They said that no one from the Palmeri family who emigrated to America ever kept in touch with Palmeris still in Serradifalco. That probably means trying to find out if we share a great-great-great-grandparent who was born around 1800. Or perhaps a great-great-great-great-grandparent who was born in the 1700s. Maybe. There are lots of Palmeris around Serradifalco. But the fact that one was living in my great-grandfather's home was intriguing.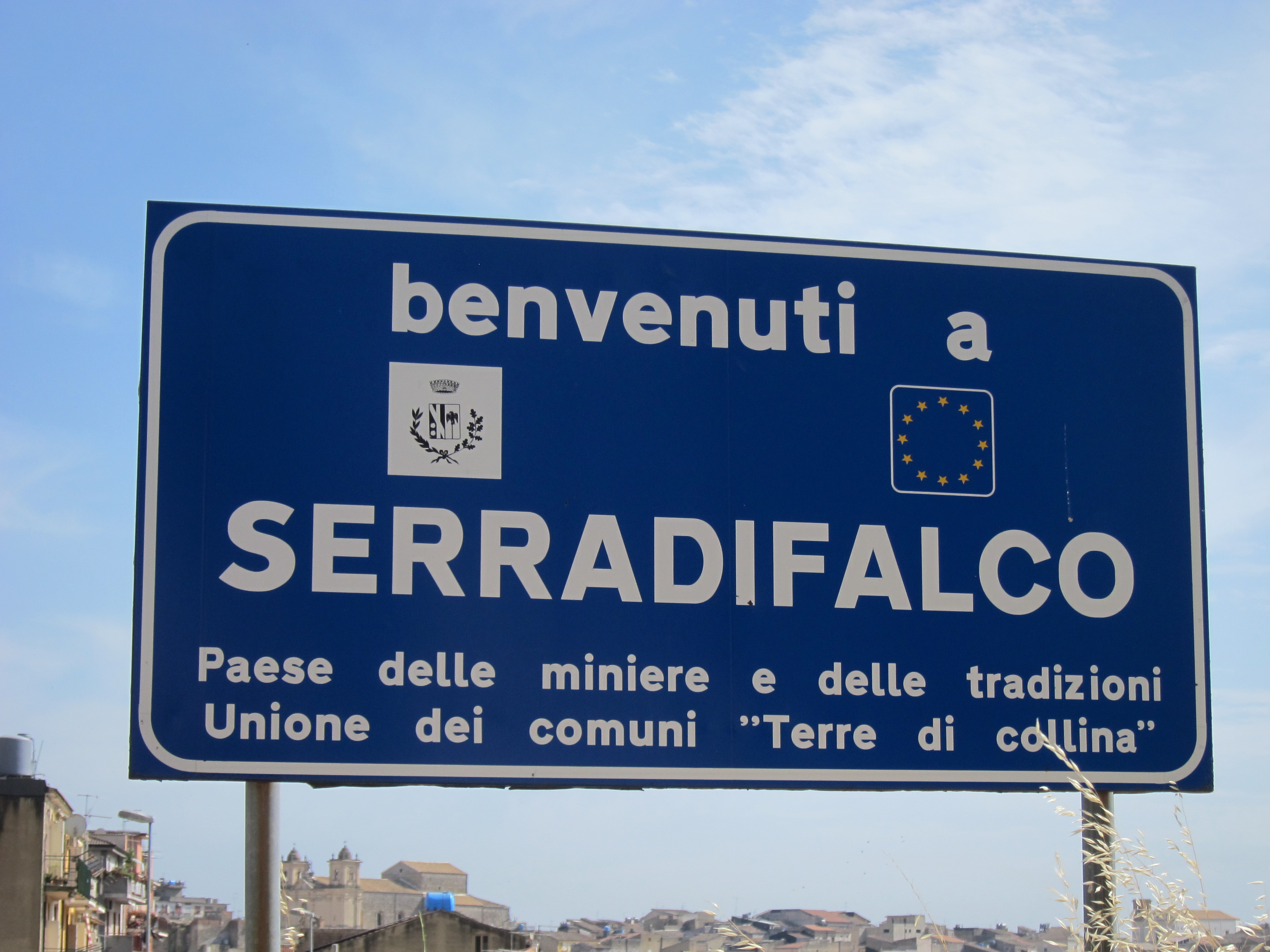 Serradifalco, Sicily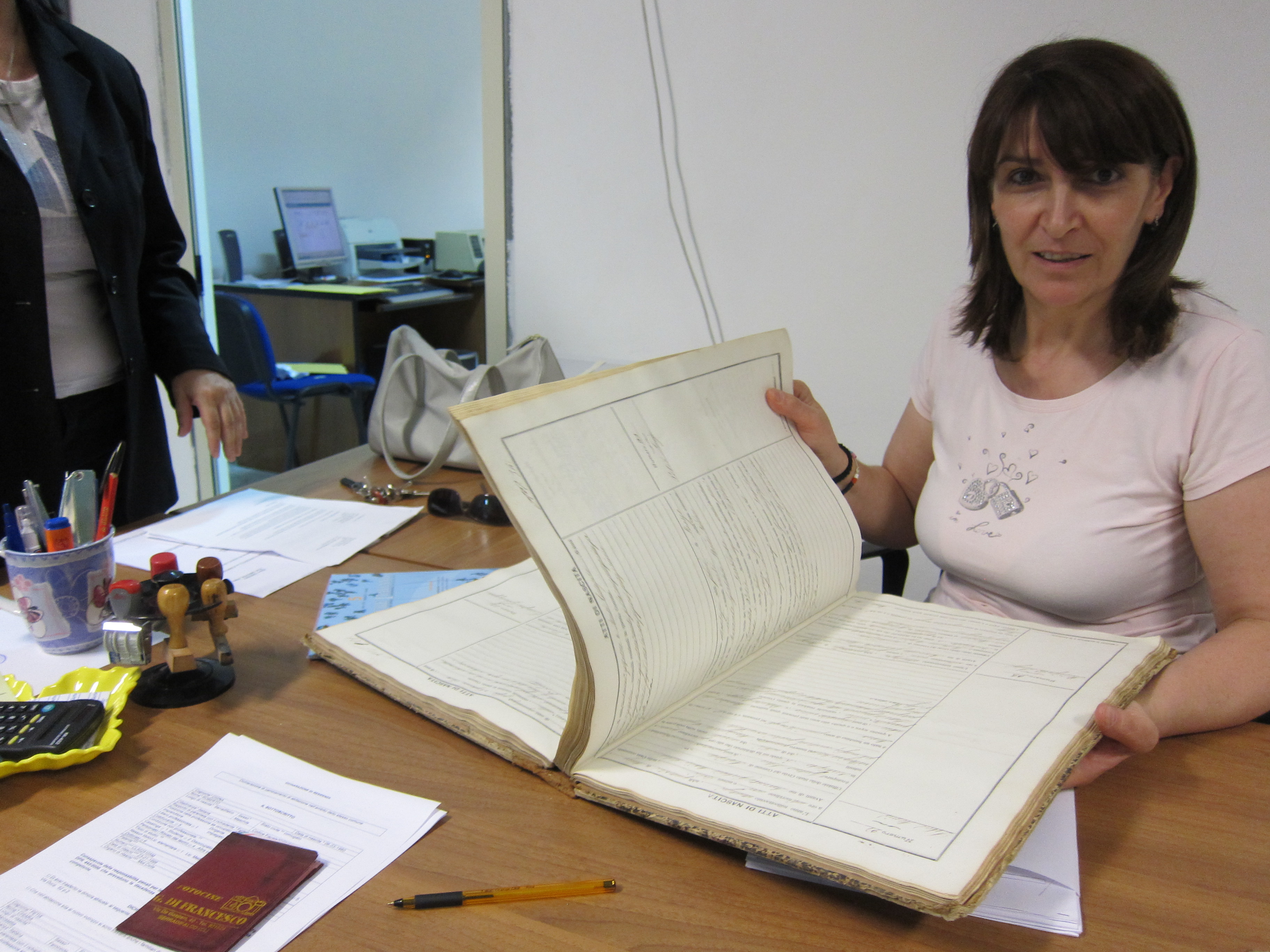 the book that contains my great-grandfather's birth record in Serradifalco