The very first step in any genealogy project is to ask your parents and grandparents for any information.
Sadly, most of my grandparents were deceased when I started this, and the only one still living was in a nursing home. I remember putting together a basic genealogy when I was in school. I talked with my great-grandmother and she gave me the names of her parents and some of her grandparents. Like many school projects, that's long gone.
On my dad's side, I knew my grandmother's parents, Carmela (Parisi) Millonzi and Rosario Millonzi. My great-grandfather died when I was a few years old. My great-grandmother died when I was on a teenager.
My dad said his father's parents were Angelo and Maria Palmeri, but did not know Maria's last name. I might have met one of them when I was little, but I don't remember.
On my mom's side, I knew my grandmother's mother, my great-grandmother, Gramma Wilson. I might have met my grandfather's father, my great-grandfather, Grampa Burke. But maybe not.
My mom knew that there was something like a Cruice and a de Guehery, but wasn't quite sure how to spell the names, or who went with whom, so she had me get in touch with one of my aunts, who was the family historian. She sent me this family tree with another couple of pages with some of the birth and death dates.
After spending most of my efforts working on and off on digitizing and adding to my wife's genealogy, I used this as a starting point for uncovering my own.
Based on what we knew then, I was 1/2 Italian, 1/4 French, and 1/4 Irish. My mom's parents were both 1/2 French and 1/2 Irish. According to family lore, both French families fled the French Revolution, with the Cruice's escaping to Ireland and then to the US, and the de Guehery's escaping to Germany, then to Canada, and then to the US.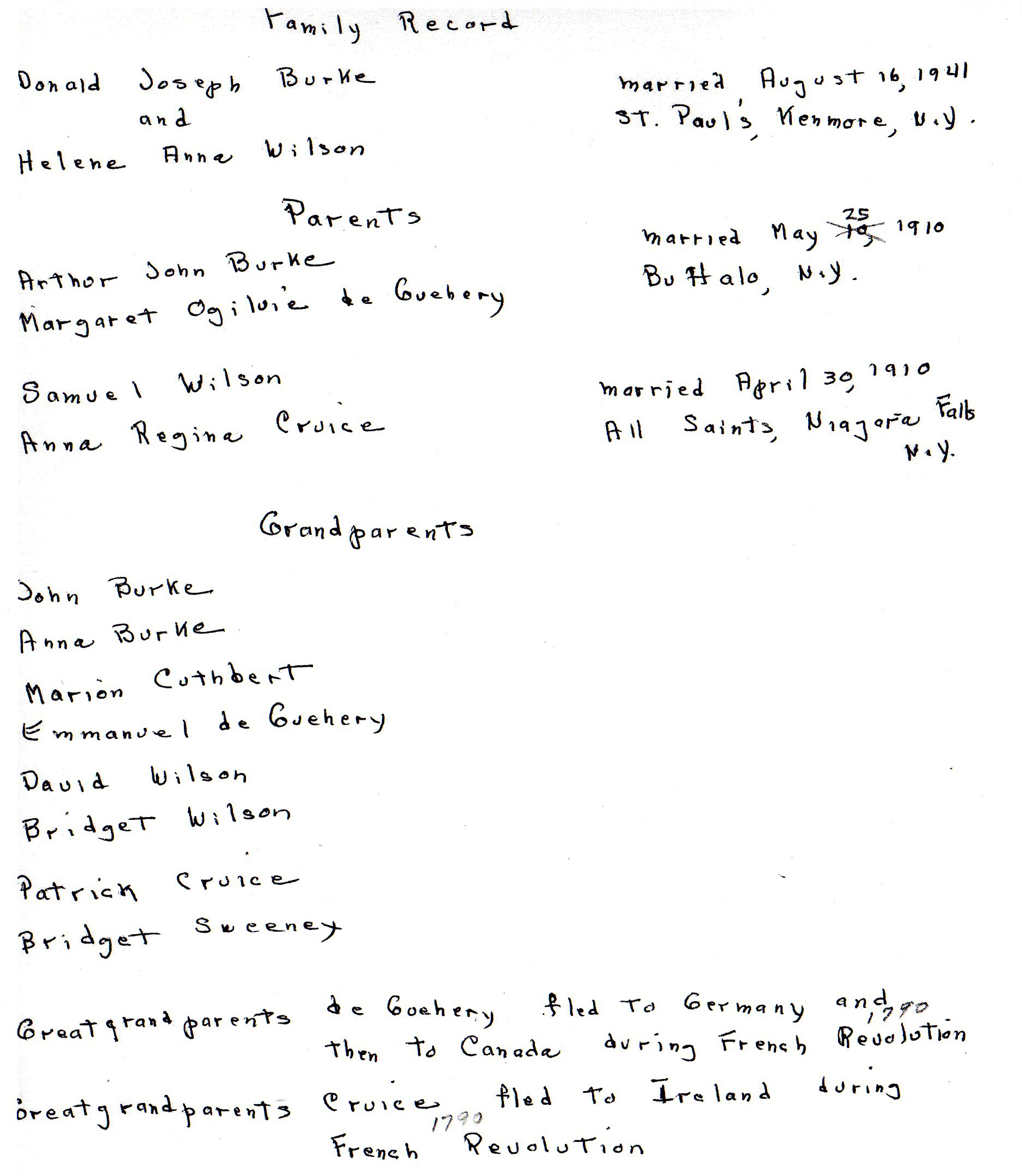 original Burke family tree