My mother's father, my grandfather, was Donald Burke. His father, Arthur Burke, was Irish. His mother, Margaret De Guehery, was French.
Or so we thought.
For my initial pass at filling in our family tree, it was a treasure hunt whenever I poked around on ancestry.com, hitting the jackpot whenever I found a distant cousin researching part of my family tree. But as I grew more serious about genealogy, I wanted to make sure that any distant cousins I might find were as serious as I am about documenting records. So now I contact them directly. Some never respond. Many have. Now I have a small network of distant family sharing finds and working on the same problems.
One of these distant cousins is related to Margaret De Guehery.
I knew that Margaret's parents were Emanual de Guehery and Marion Cuthbert. I even had some very old pictures of Marion from my aunt. A search on familysearch.org had revealed their marriage record in Ontario, with Rudolph and Goddlibien de Guehery and Thomas and Margaret Cuthbert listed as their parents.
I also knew that the de Gueherys and Cuthberts had lived in Chalk River, Ontario, both from our own family history, and from the familysearch.org records I found.
What I didn't know was that the Cuthberts were Scottish.
At some point in my search a few years, I had found a Marion Cuthbert in England but rejected that as nothing more than a false alarm.
Well, my fourth cousin had discovered that both Thomas and Margaret Cuthbert had both been born in Scotland. Thomas in Bathgate. Margaret in Glasgow. At the same time, someone in the Upper Ottawa Valley Genealogical Group found Margaret's obituary in a search of their records for me, confirming that Margaret Ogilvy (Downie) Cuthbert had died at age 80 and that she was born in Glasgow, Scotland.
The family had moved to London, England, where Marion and some of her siblings were born. So my find from a few years ago was spot on.
We're Scottish. A small part Scottish, to be sure. After all, it's only my great-great-grandmother who is Scottish. But that's still 1/16.
My cousin also had some photos to share, including a group picture that includes my great-great-great-grandmother, a picture of my great-great-great-grandfather, and a picture of the Cuthbert family farm in Chalk River that had appeared in the newspaper.
He is a descendant of the gentleman at the left of the photo below, William Cuthbert, Margaret's son and Marions' brother. William took over the Cuthbert farm. What's kind of cool is that my cousin just recently bought the farm for himself and his family.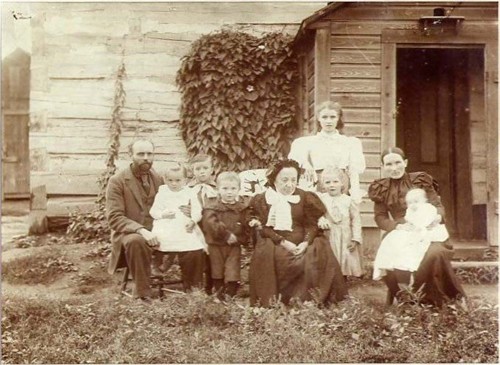 Margaret Ogilvie (Downie) Cuthbert, my great-great-great-grandmother with William Cuthbert's family
Thomas Cuthbert, my great-great-great-grandfather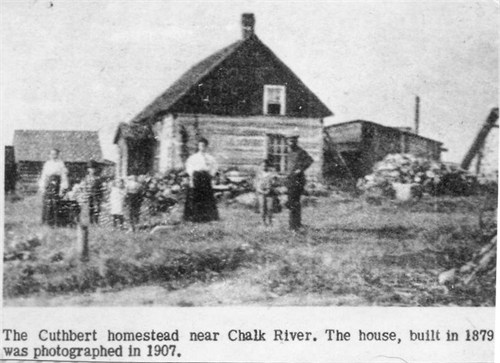 the Cuthbert family farm