Gravemarkers are an excellent source of basic genealogical information. I've called and written cemeteries and I've recruited my sister, who still lives in Western NY, to photograph markers for distant relatives who lived and died near Buffalo.
That's not an option when it's a family member who lived and died hundreds of miles away.
My mom's paternal grandmother was Margaret Ogilvie de Guehery. She was born in Chalk River, Renfrew County, Ontario. I had found a marriage record for her parents, Emanuel de Guehery and Marion Cuthbert on familysearch.org. To track down additional information on Margaret and her parents, I wrote several cemeteries and parishes around Chalk River.
Someone from the Roman Catholic Diocese of Pembroke gave me a link to the Renfrew County Gravemarker Gallery: http://freepages.genealogy.rootsweb.ancestry.com/~murrayp/renfrew/index.htm
While the search capabilities are relatively spartan, this seems to be a fairly complete visual record of all the cemeteries in Renfew County. My sincere thanks go to those who did all the hard work putting this gravemarker gallery together.
I was able to find gravemarkers for several relatives, including my great-great-great-grandparents.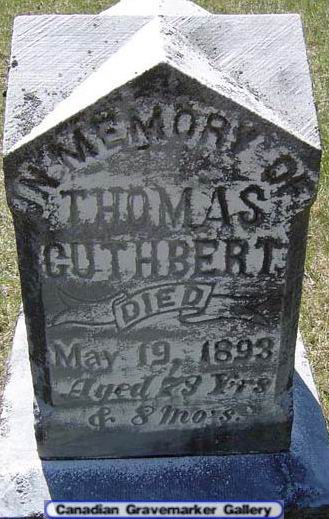 my great-great-great-grandfather Thomas Cuthbert
born 20 Sep 1813 in Bathgate, Scotland
died 19 May 1893 in Wylie, Renfrew, Ontario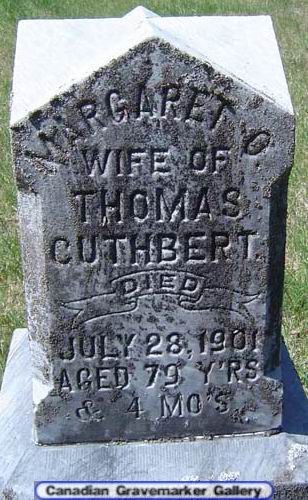 my great-great-great-grandmother Margaret Ogilvie Downie
born 11 Apr 1822 in Glasgow, Scotland
died 28 Jul 1901 in Chalk River, Renfrew, Ontario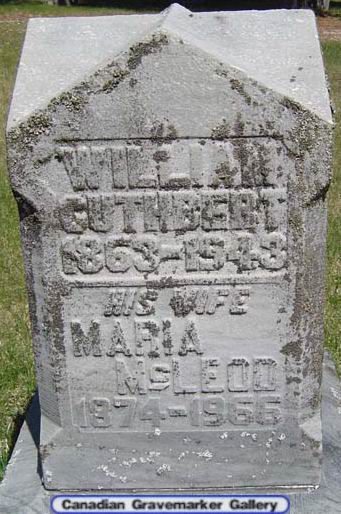 Thomas and Margaret's son, William Cuthbert
brother to my great-great-grandmother Marion Cuthbert
born 6 Mar 1863 in London, England
died Jul 1943 in Chalk River, Renfrew, Ontario